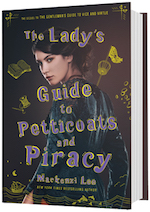 In The Lady's Guide to Petticoats and Piracy, her splendid historical novel/fantasy/pirate adventure/feminist anthem, Stonewall Book Award honoree Mackenzi Lee raises questions about such intertwined topics as colonialism, science, naturalism and even magic.
"You are Felicity Montague, I remind myself.... You have sailed with pirates and robbed tombs and held a human heart in your hands and sewn your brother's face back together after he got it shot off over said human heart.... You deserve to be here."
Felicity Montague frequently needs to give herself pep talks. Having denounced her family and devoted herself to studying preventative medicine, Felicity finds herself exactly where she doesn't want to be: facing a man who wants to make her his wife, with everything that title entails in 18th-century Europe. She's been working for a kind Scottish baker while trying to get medical schools interested in accepting her, and he has fallen in love with her. Panicked, and a little bit torn--capitulation to a traditional marriage would be easier in many ways--Felicity flees to London where her brother, Monty, and his best-friend-turned-lover, Percy, are living.
She persists in reaching out to doctors and schools but none will take her seriously, in spite of her obvious intelligence, commitment and autodidactic scholarship. Learning that her maverick idol, Dr. Alexander Platt, may be in the market for an assistant on a research expedition, Felicity jumps at the chance to track him down. As it turns out, Platt is about to marry Felicity's best childhood friend, Johanna, with whom she had a falling out a few years earlier. Monty and Percy (who disapprove of Felicity "gallivanting off" again) inadvertently introduce Felicity to her ticket to that chance: Sim, an Algerian Muslim woman and erstwhile pirate, offers to help her get to Stuttgart, Germany, where the wedding is to take place.
Thus begins the most adventurous whirlwind "grand tour" since, well, the previous year, when Felicity traveled Europe with Monty and Percy (The Gentleman's Guide to Vice and Virtue). Twists and turns and tangles of fate result in the three unlikely traveling companions--Felicity, Johanna and Sim--banding together in a race against time, overbearing macho pirates and drug-addled scientists.
Each of the women has a driving passion to do "work that matters": Felicity, to become a doctor; Johanna, a naturalist; and Sim, a pirate commodore with an environmental preservationist bent. The three challenge each other in unexpected ways. Felicity, who has rested in the odd security of her reputation as a "feral girl in a domesticated world," learns to confront intimacy and her fear thereof. She begins to understand that she may in fact be what her 21st-century cohorts would call asexual, but that being "in the company of women like this--sharp-edged as raw diamonds but with soft hands and hearts, not strong in spite of anything but powerful because of everything"--makes her feel invincible. Johanna grapples with her desire to be flirtatiously feminine even while grubbing around in the natural world. Sim rails against the inherent sexism in a patriarchal society; as firstborn, she wants to claim her birthright, but she knows her younger, less qualified brothers are likely to inherit her father's fleet of pirate ships. All three women struggle mightily for agency and independence in their lives.
In the midst of all this adventure and personal growth, they also manage to be hilariously, dryly funny, particularly Felicity: "I wrote to Monty before we left Zurich, informing him I was safe and in, if not good, at least neutral company, and that I would not be back in London as soon as I'd planned. I did not mention that there was a good chance I might be running off to join a pirate expedition to protect sea monsters. I have a sense that would get his breeches in a twist."
A fierce feminism permeates Mackenzi Lee's swashbuckling sequel to The Gentleman's Guide to Vice and Virtue. Fans of the first novel will be pleased to see its heroes--Monty and Percy--happy now (if impoverished) and to enter an entire new chapter of the Montague family drama. Felicity is supremely likable in all her flaws, and sophisticated readers will appreciate how she learns to hold a mirror up to herself even though she could easily convince herself that she is unique and special due to her determination to break deeply rooted misogynistic traditions. She is special, it's true, but she's not alone, and her way through the world is only one of many.
Lee, who has also produced such literary treasures as Bygone Badass Broads and This Monstrous Thing, weaves together folklore and science, history and imagination to create a world so rich in detail and imagery, readers will emerge from the book's covers blinking just as they would coming out of a movie theater. As Felicity herself would say: Zounds! --Emilie Coulter