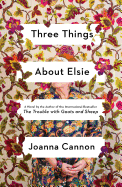 Joanna Cannon's protagonist in
Three Things About Elsie
is nearing the end of her life rather than coming-of-age, as the heroines in her debut novel,
The Trouble with Goats and Sheep
, were. But 84-year-old Florence is just as engaging, and her tale includes a mystery.
A resident of the Cherry Tree Home for the Elderly, "Flo" relies on Elsie. Her best friend since childhood, Elsie shares Flo's days, filling in memory gaps and fending off behavior that might result in a transfer to the dreaded Greenbank facility. Flo adores Elsie, who "always undid the stitches of other people's worrying and made them disappear." However, the novel opens with Flo alone, at 4:48 p.m., lying on her sitting-room floor awaiting discovery after a fall, practicing what she'll say to her rescuers and musing over what will eventually be revealed: "Everyone's life has a secret."
Ending hours later, at 11:12 p.m., the story covers decades, including a long-ago tragedy the women shared. This pivotal event has abruptly resurfaced in the form of Cherry Tree's newest resident: a man who looks exactly like the villain who died following that incident.
Elsie and Flo set out to unravel the mystery of the newcomer, and their sleuthing revives memories--although Flo's can be unreliable. Past and present intertwine as they uncover truths, some more surprising than the man's identity. Flo and Elsie are endearing, and Cannon's diverse characters at the home enrich this charming story. --
Cheryl Krocker McKeon
, manager, Book Passage, San Francisco