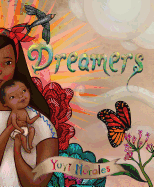 Caldecott-winning author/illustrator Yuyi Morales's (
Viva Frida
) newest book,
Dreamers
, begins with the lines, "I dreamed of you, then you appeared. Together we became Amor--Love--Amor. Resplendent life, you and I." A double-page spread shows a woman and baby, both with outstretched arms, reaching for each other across the textured paper's blank space.
"One day we bundled gifts in our backpack, and crossed a bridge outstretched like the universe." The mother dons the pack and carries the baby across the bridge. The mountains are gray, the bridge is gray, the birds are gray but the mother's multi-colored skirt shines with brilliant color. "And when we made it to the other side, thirsty, in awe, unable to go back, we became immigrants. Migrantes, you and I." This new place welcomes them "in words unlike those of [their] ancestors" and they stumble through life in their new city, "[u]nable to understand, and afraid to speak."
"Thousands and thousands of steps we took around this land, until the day we found... a place we had never seen before." Three double-page spreads are allotted to the discovery of the library, the awe, then wariness, then joy clear on the mother's face.
Dreamers
is Yuyi Morales's own immigration story. To create this book, she "painted with acrylics and drew on paper with ink and brushes," as well as photographed and scanned "many things"--the floor of her studio, traditional Mexican fabrics--to "give the book life." She is most certainly successful. Every page of
Dreamers
vibrates with energy, depicting the emotions, the turmoil, the stress and the joy that come with creating a new life. "Someday," the book finishes, "we will become something we haven't even yet imagined. But right now.... We are stories. We are two languages.... We are Love Amor Love." --
Siân Gaetano
, children's and YA editor,
Shelf Awareness