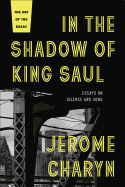 Writer of more than 50 works of fiction and nonfiction, Charyn has worn many hats and mastered many styles. With
In the Shadow of King Saul
, Charyn (
Jerzy
,
The Secret Life of Emily Dickinson
) offers a powerful, sprawling collection of autobiographical essays.
He communicates in staccato sentences, building mosaics of meditations on love and loss. He profiles writers known and forgotten, politicians, stars of the silver screen and his own family: essays chronicle a day with New York City mayor Ed Koch, the execution of Isaac Babel, the significance of Ellis Island, the promise and tragedy of "the Black Babe Ruth" Josh Gibson, the circumstances of a heart-wrenching faked letter to Charyn's mother. Haunting the collection's core is the figure of King Saul, cast aside for the vaunted David, who, as Leonard Cohen (whom Charyn extols) wrote, "played the secret chord."
Charyn doesn't claim to have the secret chord nor the perfect words. Instead, he celebrates silence and the silenced. He does not dance around the problems of the present, but steps back for a broader picture of "a century of mass migration and mass murder, of dreamlike poverty and dreamlike wealth, of businessmen-philosophers and pauper-kings." His growing up in "the century of Hollywood and Hitler" informs his reflections on glamour and horror, awe at the awesome and awful, and the power of words, whether in truth, lies, love or a silent shadow--or a slurry of them all. --Katie Weed, freelance writer and reviewer