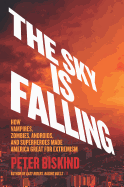 Vanity Fair contributing editor Peter Biskind has written juicy exposés on the birth of new Hollywood in the 1970s (Easy Riders, Raging Bulls) and the rise of indie filmmakers in the 1990s (Down and Dirty Pictures). He now turns his sights on how extremism in politics has affected 21st-century films and TV shows. Abandoning the oral history format of his previous books, The Sky Is Falling is a dizzying ideological treatise on how extremist politics has changed films and TV shows. It has "normalized the extremes so that they become the new mainstream... behavior that was once beyond the pale--violence, lying, revenge--have become the new norm as the public good is replaced by self-interest."
The TV espionage thriller 24, which ran during George W. Bush's two terms as president, "used the war on terror as a pretext for the establishment of the surveillance state. Were it not for Jack [Bauer]'s aversion to bureaucracy, 24 would have rung every note in the neocon songbook." Each season had audiences rooting for a hero who used torture to gain information.
Biskind also criticizes left-leaning productions (chiefly
Avatar
and the TV series
Lost
), demonstrating that many highlight "the Luddite-left's distrust of machines." Extreme gore on shows like
True Blood
and
The Walking Dead
has desensitized TV viewers. The final chapter checks in on films that were green-lit before the #MeToo movement but came out at exactly the right time (including
Wonder Woman
,
The Post
and
Three Billboards Outside Ebbing, Missouri
).
The Sky Is Falling
eloquently chronicles pop culture's pervasive role in mainstreaming extremism. --
Kevin Howell
, independent reviewer and marketing consultant