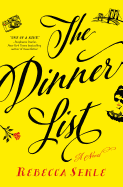 It's a common thought-provoking, hypothetical challenge: list the five people, living or dead, you'd most love to have dinner with. Although Sabrina made her list years ago, she's still stunned when she shows up to her own birthday dinner in Manhattan. Instead of only her best friend, Jessica, she also finds her estranged (now deceased) father, Robert; a beloved college professor, Conrad; her sort-of fiancé, Tobias (it's complicated); and Audrey Hepburn. As the evening unfolds, Sabrina and her companions examine the difficult truths about their intertwined lives: the romance, regrets and unexpected turns.
Having previously written for a younger audience, Rebecca Serle (
When You Were Mine
) serves up a delicious, insightful account of friendship, family and deep love in
The Dinner List
, her debut for adults. She lays out her narrative along two parallel tracks: a time-stamped breakdown of the dinner party, slowly ticking down toward midnight, and a recounting of Sabrina's young adulthood and her love story with Tobias, spanning a decade. The latter story provides important background and fills in some blanks about the other characters: Sabrina's longtime connection with Jessica and their wildly differing approaches to life and love; the effect of her father's absence; Professor Conrad's influence on her life and philosophy. Hepburn, although Sabrina is named after one of her iconic roles, is the wild card at this dinner. But she's a gracious one: like the other characters, she asks incisive questions, makes the occasional wry joke and offers hard-won wisdom when it's needed.
Witty, sweet and unexpectedly moving,
The Dinner List
offers a menu of keen-eyed, compassionate insights about the relationships that nourish us. --
Katie Noah Gibson
, blogger at
Cakes, Tea and Dreams