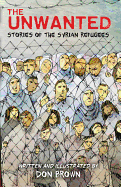 The Unwanted's first two images couldn't be more jarring: on the title page, a hijab-wearing woman raises her hand to her face in overwhelming distress; a turn of the page reveals a girl holding flowers, smiling back over her shoulder as she walks across a town square lush with greenery. Both are victims of war, the former made desperate by a nation in ruins, the latter still innocent, destruction about to uproot her young life.
While the factious situation in war-torn Syria is difficult even for adults to comprehend, what writer/illustrator Don Brown (
America Is Under Attack
) offers here is an empathic account of how everyday citizens--especially women and children--take tortuous paths toward survival. They are
The Unwanted
, who, without a future in their own country, must search elsewhere for home.
Using a similar format that won him awards for
Drowned City
, Brown presents a graphic hybrid of history and facts--explained in text boxes--with scenes of personal experiences. Beyond numbing data, Brown gives faces and voices to the refugees, as he chronicles various journeys out: "We gave the babies sleeping pills so they wouldn't cry," a fleeing mother reveals. "I tried to catch my wife and children in my arms. But one by one, they drowned," a man mourns over his survival. Brown's panels can't--won't?--contain all that the Syrians must endure, as weapons, explosions, fleeing crowds, suffering victims repeatedly break through panel outlines. Yet amid the struggles, Brown won't abandon hope: the lamenting woman and the little girl from the introduction return in the final pages, safe in a future that "is now." In urgently humanizing
The Unwanted
, Brown's sobering explication and tenacious advocacy prove both necessary and revelatory. --
Terry Hong
,
Smithsonian BookDragon