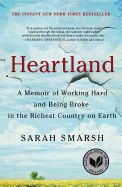 The election of Donald Trump helped expose the fault lines separating Americans who inhabit different regions and economic strata. But long before class was a subject of newspaper columns, it was fundamental to Sarah Smarsh's life. Smarsh, a fifth-generation Kansas farm girl who comes from a long line of teenage moms, explores her family's experience and her struggle both to honor and escape her roots in her first memoir, Heartland.
Now a journalist, Smarsh delves into the many factors affecting the United States' rural-urban divide: the "Reaganomics" policies of the 1980s, the rise of industrialized agriculture, the decline or disappearance of many industries that had long sustained Midwestern communities. She examines the challenges of being both poor and female through the histories of the strong women who raised her: her mother, Jeannie, and her grandmothers, Betty and Teresa. Each of them, including Smarsh, was frequently ignored, undervalued or shamed by systems that permeated American life. In taut, lyrical prose, Smarsh blends personal and economic perspectives to show the challenges faced by the heartland and to insist on the region's dignity and worth.
Americans, Smarsh notes, are often defined by how they move: "along highways across big stretches of earth, to the place we think will do right by us, the place we hope we might belong." Her explorations have taken her to the East Coast, but she has returned to Kansas, at least for now. "Most essential to my well-being was the unobstructed freedom of a flat, wide horizon," she writes. "If there was something to get out of, some place or class, in many ways I am still there and perhaps always will be."
Searing, timely and blazingly eloquent,
Heartland
challenges readers to look beyond tired stereotypes of the rural Midwest and is a testament to the value (on many levels) of "flyover country." --
Katie Noah Gibson
, blogger at
Cakes, Tea and Dreams