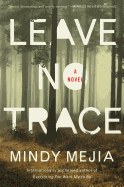 The aching cold of northern Minnesota runs bone deep in
Leave No Trace
, the new thriller from Mindy Mejia (
Everything You Want Me to Be
). Ten years before the book begins, Josiah Blackthorn and his son Lucas vanished into the remote Boundary Waters of the Minnesotan/Canadian border, and have been presumed dead ever since.
Then suddenly an aggressive and nonverbal Lucas appears in a sporting goods store in Ely, Minn. The nearly feral 19-year-old is transferred to a psychiatric facility in Duluth, where 23-year-old Maya Stark is a newly minted speech therapist. The head of the facility decides that because Maya is young and has experience backpacking and kayaking, she might be the one to break through Lucas's barrier.
However, Maya finds her therapy sessions with Lucas becoming increasingly unsettling. Her research into Lucas's life in the Boundary Waters brings back painful memories of trips into the wilderness with her mother--before her mother abandoned their family. She's already on edge, and once Lucas finally starts speaking about his relationship with Josiah, Maya's whole world shatters.
Tense and atmospheric,
Leave No Trace
is a chilly novel--perhaps meant to be read in front of a warm fire. As Maya and Lucas undertake journeys of self-exploration, they discover a strange camaraderie; readers are sure to be shocked by their ultimate destinations. Fans of Kimberly Belle and Ruth Ware will love
Leave No Trace
's fast pacing and many surprises. --
Jessica Howard
, bookseller at Bookmans, Tucson, Ariz.