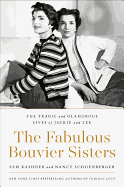 Co-authors Sam Kashner and Nancy Schoenberger (Furious Love: Elizabeth Taylor, Richard Burton, and the Marriage of the Century) begin their in-depth biography of Jacqueline and Caroline Lee Bouvier at the reading of Jackie's 38-page will. Upon her death at age 64, the former First Lady left her younger sister nothing. The Fabulous Bouvier Sisters explores the factors that precipitated Jackie's decision to unravel the complex history between once "thick as thieves" sisters who ultimately grew apart.
Jackie and Lee both appreciated the arts, history, travel, design and fashion. Early cultural exposure anchored their individual senses of style and beauty. Jackie was more introverted and self-reliant, preferring books and literature, while the more social Lee craved attention and drama. These specific traits defined each woman for life.
Painstaking, thoughtful research--along with quotes and interviews with many notables, including 85-year-old Lee--charts the women's public and private lives. Their shared childhood and travels, Jackie's years as First Lady and then as a widow, Lee's role as Princess Radziwill, family weddings, funerals and tragedies serve as touchstones. Their tangled, complicated liaisons--and sordid fallings-out--with powerful men including Jack and Bobby Kennedy, Aristotle Onassis and even Truman Capote are intriguingly drawn.
Jackie and Lee may be "two of the most written-about women of the twentieth century." However, this meticulous portrait sheds new light on the sisters' similarities and differences, and how their choices in life led to competition and rivalry. --
Kathleen Gerard
, blogger at
Reading Between the Lines