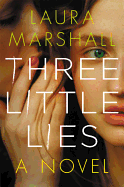 In the summer of 2005, best friends Ellen and Karina watch an intriguing family disembark from a moving van at the corner house. They are struck by a piano, boxes upon boxes of books, bohemian parents, two teen boys and an alluring, scar-faced girl, Sasha. The girls obsess over the Monkton clan, particularly Sasha, and are soon swept up in house parties filled with artists, booze and music. The good times come to a screeching halt when oldest son Daniel Monkton is accused of rape at a New Year's Eve bash.
Daniel's mother sits at his trial in 2007, watching as Karina, Ellen and Sasha testify against him. Olivia is torn between the natural impulse to believe her son and the gutting fear that some of the girls' lies bear a hint of truth.
In 2017, Ellen and Sasha are roommates in London with no connection to the others, save for threatening letters from Daniel in prison. After Sasha fails to return from work one evening, Ellen learns Daniel is off probation and worries he's seeking retribution. When the police investigation stalls, Ellen revisits the past to find Sasha and settle what happened that New Year's Eve.
Within the alternating timelines of
Three Little Lies
, Laura Marshall (
Friend Request
) spins an engrossing mystery filled with secrets and lies. She has a knack for the nuances of female friendships and mother/daughter relationships, bolstering the emotional underpinnings of the narrative. Despite a slightly hollow final reveal,
Three Little Lies
stirs a dysfunctional family drama and teenage insecurities into a very satisfying story. --
Lauren O'Brien
of
Malcolm Avenue Review