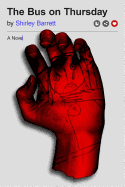 Australian author Shirley Barrett (Rush, Oh!) takes readers on an arrestingly dark and hilarious journey to a bizarre small town in Australia and through a young woman's growing madness.
She survived breast cancer, but Eleanor Mellett is unprepared for life after the battle, an aggravating maze of humorless support groups, post-mastectomy dates with insensitive men and thoughtless comments from her friends. Needing an escape, Eleanor finds a job teaching primary school in the town of Talbingo, population 241--actually, 240, since the previous teacher, Miss Barker, skipped town in the middle of the night. Her disappearance made little sense considering her alleged devotion to her students, but Eleanor is in no position to look a gift horse in the mouth.
In a private blog, she chronicles her increasing bemusement at Talbingo, where she learns there is no cell signal. She has a run-in with a priest who tries to exorcise her, a teen student who ogles her and a volatile relationship with the local bad boy who may or may not have had an affair with Miss Barker. Beginning to suspect her predecessor may not have left town of her own free will, Eleanor also slides into drinking and outbursts of uncontrollable anger. Perhaps something is rotten in Talbingo, or perhaps the fault lies in Eleanor's own mind.
Written in Eleanor's snarky, seething voice, this warped gem will throw readers off-balance with its mix of horror and humor. A raw exploration of grief and illness woven into a more traditional horror story,
The Bus on Thursday
will chill readers across the board. --
Jaclyn Fulwood
, blogger at Infinite Reads