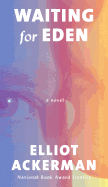 Narrated from the grave by a marine killed in the same IED attack that left Eden Malcom an intermittently conscious, skin-torched, dismembered, vision- and hearing-compromised survivor, Waiting for Eden tells of his wife Mary's three-year bedside vigil holding on to the thread of life. Her refusal to take him off life-support alienates his siblings, who hold a symbolic memorial service and move on. Even the stoic nurses at the San Antonio VA hospital shudder to care for this patient: "Not alive, not dead, what it was didn't have a name... it was man suffering into the anlage of whatever came next."
National Book Award finalist Elliot Ackerman's unusual choice of a dead comrade to narrate his spare tale allows for unobtrusive flashbacks fleshing out the history of Mary and Eden's life. We learn of his first deployment, their early dating and marriage, her desire for a child, his war-driven impotence and the narrator's brief affair that impregnates Mary. When Eden's condition deteriorates to the point where Mary is ready to let him go, his training in prisoner communication by coded taps opens a window of connection. She hesitates until it is clear that he is messaging her to "end, end, end"--the signal of a desire to "tap out." The narrator patiently waits for her decision to release his fellow Marine to the limbo of post-death "whiteness." What comes next is unknown.
Waiting for Eden
is a tight, intense story of loyalty, guilt and suffering that belies its brevity. Ackerman (
Dark at the Crossing
) has crafted another prismatic window into the long-lasting agony of war. --
Bruce Jacobs
, founding partner,
Watermark Books & Cafe
, Wichita, Kan.