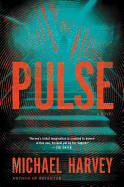 Emmy and Academy Award nominee Michael Harvey (Brighton) returns to the city of his youth with another thriller alive with the haphazard streets of the Hub. With film rights already optioned, Pulse is a cinematic story of two young parentless brothers and two police detectives--one an Irish Catholic Southie and the other a 250-pound African American raised in a Roxbury tenement. Set in the '70s, Pulse is partly a whodunit, partly a historical coming-of-age story, partly gritty noir and partly quantum physics sci-fi.
Sixteen-year-old Daniel Fitzsimmons is a flaky Boston Latin student suffering from PTSD after witnessing the death of his mother in a car wreck when he was eight. He worships his older brother, Harry, who is gliding through Harvard, acing his classes and leading the football team. With an unknown absent father, they've got each other's backs--until Harry joins his teammates for a traditional end-of-season night in strip joints and brothels. In a deserted alley, Harry is stabbed to death and found by Daniel after a premonition draws him to the crime scene. Detectives Tommy Dillon and Barkley Jones catch the gruesome, headline case. When a sketchy street photographer snaps close-ups of the murder and the perpetrator from his seedy third-floor flat, it looks like an easy case-closed investigation. Until it isn't.
Like a good crime novel,
Pulse
is driven by a trail of clues and coincidences that paint a picture of cause and effect. The ghosts, nightmares and visions that motivate and trouble its characters take a back seat to a solid good guys/bad guys tale set in the streets of an old city opening to a new world. --
Bruce Jacobs
, founding partner, Watermark Books & Cafe, Wichita, Kan.