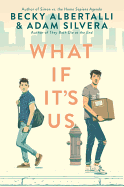 Becky Albertalli (Simon vs. the Homo Sapiens Agenda) and Adam Silvera (They Both Die at the End) join literary forces to bring readers an offbeat, contemporary romance told from dual perspectives.
Sixteen-year-old Arthur is from Georgia, a "five-foot-six Jewish kid with ADHD and the rage of a tornado." He's living in New York City for the summer while he interns at his mom's law firm. Arthur, a believer in "love at first sight... [f]ate, the universe, all of it," feels ready for whatever "nudges" the universe might have in store for him. Ben is a video game-playing aspiring fantasy writer with big dreams and even bigger expectations. Also in New York City, he is stuck in summer school with his cheating ex-boyfriend. His thoughts about the universe? He's been burned one too many times.
Arthur and Ben meet-cute in a post office where Ben is trying to mail a box of "leftovers from [his] breakup." When the price to mail the box is outrageously large, the two get into a conversation about the universe's plans--for that box and maybe for them, too. But a flash-mob proposal prevents them from getting any further than, "You think the universe wanted us to meet?" With only a crumpled shipping label for contact info, Arthur leaves a real-life missed-connection post on a bulletin board in a coffee shop.
What follows is an imperfect, epic romance between two flawed teens ready to challenge the universe. A seamless collaboration, What If It's Us is certain to be well-received by fans of both Albertalli and Silvera. --Lana Barnes, freelance reviewer and proofreader