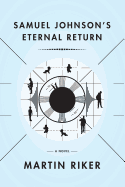 When Samuel Johnson is 12, the town of Unityville, Pa., (pop. 30 religious zealots) is rocked by the arrival of a television set ("less likely than a stigmata"). A loner and a mope, Samuel brightens as television transports him outside his tiny town. His viewing sessions with fellow preteen Emily blossom into romance. They eventually marry, but tragedy strikes when Emily dies in childbirth.
Four years into parenting by himself, Samuel dies protecting his son from a crazed stranger. Struck by the "odd turns" of his afterlife, Samuel realizes his soul now resides in the body of the lunatic who killed him. That horrible fate is altered when his murderer then dies, propelling Samuel into an occupant of a passing airplane. Hurtling ever farther from his boy, Samuel feels punished by God for his shortcomings as a father (and for watching too much television).
Samuel Johnson's Eternal Return is a quirky, multi-bodied story of the peculiar road trips Samuel's soul takes as he desperately tries to maneuver back to his son. Martin Riker, English lecturer at Washington University in St. Louis and co-founder of the feminist press Dorothy, evidences an engaging narrative voice in his enjoyable debut.
Samuel's perceptions change as he observes through what are, in essence, human televisions. The television theme is mined to useful and comic effect, and fans may enjoy revisiting programming lineups and their reflection of society from the 1960s forward. Riker dips into the existential, but the navel-gazing feels natural to Samuel's predicament and lends itself to a heartwarming and rewarding conclusion. --Lauren O'Brien of Malcolm Avenue Review