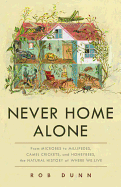 Rob Dunn is a backyard scientist--literally. With his eponymous applied ecology Rob Dunn Lab at North Carolina State University, he and his coterie of post-docs, grad students and occasional middle schoolers study the menagerie of critters that inhabit yards, homes and personal affects. Their work has spawned numerous academic papers and earned prestigious research grants. Like Dunn's previous books (including The Wild Life of Our Bodies and Every Living Thing), Never Home Alone is a lively compendium of hard science, anecdote, history and personal memoir. Methodically, it explores basements, showerheads, kitchen cabinets and even drywall construction, uncovering the hundreds of thousands of species of bacteria, fungi, arthropods and pets that share what people think of as their private space. Caution: graphic content for those who are not too fond of cockroaches, crickets, houseflies and wasps.
Something of a scientific raconteur, Dunn tells his story of the macro and micro biome of our homes in a colloquial, sometimes corny, style that makes the heavy science go down easy. The impetus of his research subject is this simple observation: "The average American child now spends 93% of his or her time in a building or a vehicle.... We have become, or are becoming, Homo indoorus, the indoor ape."
In his quest to understand the variety of creatures residing in our houses and their effect on health and well-being, Dunn learns that our obsession with creating a sterile and clean home environment often throws out the baby with the bathwater. We can't escape the myriad forms of life around us and, in fact, really need them. --Bruce Jacobs, founding partner, Watermark Books & Cafe, Wichita, Kan.