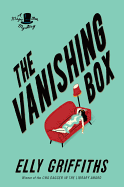 Elly Griffiths (The Dark Angel, Smoke and Mirrors) has written a clever fourth entry in her Magic Men series with The Vanishing Box. Famous magician Max Mephisto is working on his new dual act with his daughter Ruby, who came into his life only three years earlier. It's late 1953, and they are performing at the Brighton Hippodrome, which is perfect since Ruby's fiancé, DI Edgar Stephens, works in town.
Stephens, determined to modernize crime scenes by taking photos of them, has his chance when a young girl is found murdered and strangely positioned in her boarding house. Her landlady swears that Lily was a quiet girl with no enemies, so Stephens and his team begin looking into some of the other boarders, including a few girls involved in a scandalous act at the Hippodrome. These girls pose nearly naked as living statues, reenacting various historical and literary events.
Meanwhile, Max has become romantically involved with one of the tableau posers. Thus, he is intrigued by Stephens's case, especially when two more deaths with ties to the theater occur.
The Vanishing Box captures the world of midcentury Britain in delightful detail. Stephens and his team are using "new" psychological and scientific techniques as they race to catch a killer in a world where the shadow of World War II still looms large. Moreover, Max and Ruby's act at the Hippodrome offers a fascinating peek into the vaudeville life. A detective and magician may make an unlikely crime-solving pair, but Griffiths makes it work supremely well. --Jessica Howard, bookseller at Bookmans, Tucson, Ariz.