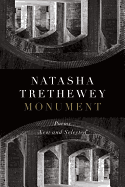 Natasha Trethewey's collection of new and selected poems, Monument, offers a hefty cross-section of the poet's wide-ranging and important work.
The book's six sections pull from previous collections, including the Pulitzer Prize-winning Native Guard. Trethewey is a biracial poet with a profound sense of American history. The poem "Flounder" uses metaphor to introduce a central conflict throughout, the tension between being black and being white: "I stood there watching the fish flip-flop,/ switch sides with every jump." Deftly, Trethewey gives voice to those who exist in the liminal spaces of American culture. She plumbs "their dailiness" with clear, resonant images, creating one indelible portrait after another in a "catalog/ of mixed bloods."
Many of the poems also focus on Trethewey's black mother, who was murdered by her second husband. Confronting the incident in verse seems to offer the poet catharsis. "And how could I not--bathed in the light/ of her wound--find my calling there?" she asks in "Articulation." In the same way she explores race with historical characters, she explores her mother's black family and their place in history. As much as these poems look out into the world, though, some of the best look inward. In "Illumination," the poet brilliantly limns the writing process itself. "Always there is something more to know/ what lingers at the edge of thought/ awaiting illumination," she begins. The poem ends with a white page "silent incendiary waiting."
Monument is a momentous collection that uses verse to enshrine both the historical and deeply personal. It places Trethewey in the pantheon of American poetry. --Scott Neuffer, writer, poet, editor of trampset