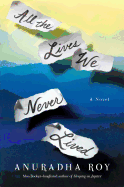 All the Lives We Never Lived by Man Booker nominee Anuradha Roy (Sleeping on Jupiter) centers on the idea that what one values in life may never be truly translatable, even to a loved one. Myshkin, the main narrator, is abandoned by his mother at the age of nine, never understanding why she left or what she gave up by disappearing. The present day of the book takes place in 1992, when Myshkin looks back on his childhood 60 years earlier. With the arrival of lost letters from his mother, he decides to upend the comfortable distance he's kept from her betrayal and discover what actually happened after her departure. But with each revelation, old memories are cast in strange new lights, and his settled present becomes ever-more fragile.
His mother is Gayatri, a talented painter who is married off as a teenager when her father dies. Having traveled with her father from their native India to places like Bali, she is slowly rubbed raw by this forced domestic life, even with the birth of Myshkin and the support of neighbors in the small town where she and her husband live. When she finally leaves, disappearing one afternoon with a European artist she met years before, she sets off to become the painter she always wished to be.
Roy plumbs the idea that by re-examining his mother, Myshkin has the opportunity to understand better why he lives as he does, and why his parents and others around him took such different roads. In All the Lives We Never Lived, small moments of connection ultimately prove to be the most profound. --Noah Cruickshank, adult engagement manager, the Field Museum, Chicago, Ill.