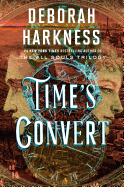 A fun and lusty look at immortality, Time's Convert by Deborah Harkness adds another dimension to her popular All Souls trilogy by focusing on Marcus de Clermont, the "son" of the trilogy's vampiric protagonist, Matthew. Marcus falls in love with a human woman, Phoebe, who agrees to become a vampire to live with him forever. Whisked off to undergo this change, she begins the sometimes terrifying process of becoming immortal.
Marcus, meanwhile, begins bunking with Matthew at the scenic French chateau he shares with Diana (the series' other hero, a witch and mother to two small children with growing magical powers). Here the details of his life are slowly revealed, from his birth in colonial America to his fateful meeting with Matthew in New Orleans.
Fans of the All Souls trilogy will be delighted with this new installment, continuing Diana and Matthew's story while providing deeper context for Marcus's behavior and a new era to explore. Harkness, a historian, knows how to bring out previous time periods with vivid authenticity, and her romantic scenes are steamy as ever. But those who are unfamiliar with Harkness's work should start with the trilogy itself. There are far too many characters and plotlines to juggle, and readers may well get confused without the proper context from previous books. Still, fans of Harkness and historical fantasy will have plenty of fun with Time's Convert. --Noah Cruickshank, adult engagement manager, the Field Museum, Chicago, Ill.