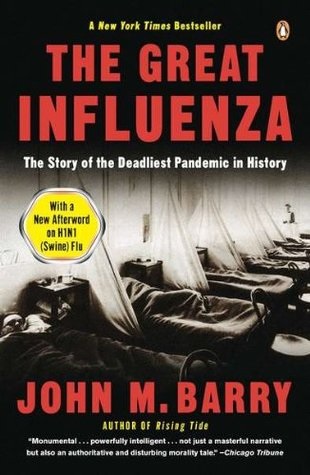 A century ago, from early 1918 until the end of 1920, a global influenza pandemic raged, infecting 500 million people and killing as many as 100 million, nearly 6% of the world's population. Inaccurately called "the Spanish flu" (censors muzzled coverage of its spread in the countries fighting in World War I, but its appearance in neutral Spain was widely reported), the pandemic involved a type of flu that likely was particularly aggressive. Wartime conditions--general malnutrition, unsanitary conditions, soldiers traveling widely and living in close quarters--contributed significantly to the lightning speed with which the flu spread.
In The Great Influenza: The Story of the Deadliest Pandemic in History, John M. Barry outlines the history of the great pandemic and emphasizes the role of doctors and researchers in trying to understand the disease and seeking to combat it. The book outlines the development of modern science and medicine in the years before the pandemic--and how that helped deal with such an international crisis.
Published originally in 2005, The Great Influenza won the Keck Award from the National Academies of Science for outstanding book on science or medicine. It's available in paperback from Penguin Books ($19, 9780143036494) and includes an afterword from Barry warning about the dangers of the avian flu.