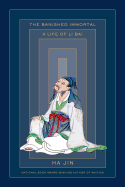 Chinese American writer Ha Jin's fictional work and poetry examine Chinese history, culture and identity. It's no surprise, then, that he would write a biography of one of China's most important poets, Li Bai (also known as Li Po). The Banished Immortal: A Life of Li Bai (Li Po) is a typical biography, spanning the life and career of the eighth-century poet, but Ha Jin's masterful style and deep affection for his subject make the book a pleasure to read--especially for those unfamiliar with Li Bai or Chinese poetry in general.
Aside from being an outstanding and influential poet, Bai was also the most colorful of characters. A braggart who could dash off masterpieces and perform sword dances, he lived most of his life on the road, traveling across the Tang empire in search of fame and fortune. With a brief stint at court (where he impressed the emperor but ran afoul of other players in politics) and a small role in a rebellion, Bai led many lives in his 62 years, even without considering his poetry.
Ha Jin is smart to keep that poetry front and center, though. The Banished Immortal liberally quotes Bai's work, sometimes reproducing complete poems in translation to show the depth of his imagery and style. A number of readers will pick up this book knowing its author but not Li Bai, and Ha Jin makes sure they see Bai's prodigious talent. Newcomers will be swept up in Bai's personal history while fans of his work will enjoy Ha Jin's own take on the man and his influence. --Noah Cruickshank, adult engagement manager, the Field Museum, Chicago, Ill.