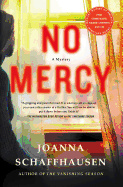 "You kill one guy, one time, and suddenly everyone thinks you need therapy." Officer Ellery Hathaway is irked when she's required to get counseling following a shooting. She's even less pleased when her psychiatrist wants her to attend group meetings for violent crime survivors. Ellery is already infamous from her childhood abduction by a serial killer--after the media coverage, a book and at least two movies, what more could anyone want to know about "the girl who got away?"
In the group, Ellery meets Myra Gallagher, survivor of a 1987 fire that killed her toddler son. The arsonist is up for parole and rumors are swirling he may be innocent. Then there's Wendy, hiding behind her shaved head and neck tattoo, hoping the man who snuck in her bedroom window won't find her attractive enough to return and rape her again. Since the formal police investigation has stalled, Wendy begs Ellery for help.
No Mercy, the second in Joanna Schaffhausen's absorbing mystery series, finds Ellery sucked into both cases, eventually calling on FBI profiler Reed Markham for help. The two have a complicated history going back to Ellery's abduction and the circumstances of The Vanishing Season. Although first-time readers may be confused by the level of backstory, Schaffhausen provides intriguing new investigations that build on Reed and Ellery's foundation and pique interest in their future. Schaffhausen is an ace at probing the nooks and crannies of victimology, and this installment's focus on surviving violence provides her with plenty of space to shine. --Lauren O'Brien of Malcolm Avenue Review.