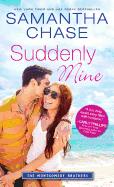 Sophia Bennington loved her small town in Kansas--until she learned that her whole life was predicated on a lie. Fleeing her roots, she arrives in southern California, determined to find a new job and take up surfing.
Christian Montgomery is burned out, although he won't admit it. As a member of the family-owned investment firm, Christian works insane hours to try to appease his implacable father. His only source of stress relief is sitting on the deck of his beachside house, watching the surfers. When chance brings Sophia and Christian together, they quickly discover that each has something the other needs. Christian offers her stability as she navigates her new life, and Sophia lightens him up and convinces him not to work so hard. But when tragedy strikes the Montgomery family, will their burgeoning relationship be able to withstand the pressure?
Samantha Chase (Until There Was Us, Tangled Up in You) aptly captures the stresses and worries of a new relationship and all the pitfalls that lie along the path to romantic happiness. Suddenly Mine is Chase's ninth novel about a Montgomery relationship, but can easily be read as a standalone, since a few Montgomery cousins are merely peripheral characters. Sweet, but not saccharine, and well-paced, this romance is light and agreeable. The southern California climate is the perfect breezy backdrop for Christian and Sophia's story. --Jessica Howard, bookseller at Bookmans, Tucson, Ariz.