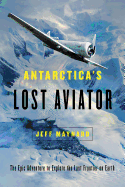 Jeff Maynard (Wings of Ice; The Unseen Anzac), has written a compelling history of a largely forgotten figure in Antarctic exploration. Lincoln Ellsworth, heir to a vast American fortune, probably gay and perpetually depressed, turned to exploration as a way to make his mark on the world. Overshadowed by his domineering father for most of his life, Ellsworth drifted around the world, spending large amounts of time in the Grand Canyon, Death Valley, New York and Switzerland.
But then, in the mid 1920s, Ellsworth met Roald Amundsen, the famous Norwegian explorer, and found his passion. Nearly 50, a dilettante society bachelor all his life, Ellsworth was an unlikely character to break into polar exploration. But over the next decade he did just that, becoming involved in expeditions to the North and South Poles. His journeys finally culminated in the hiring of Sir Hubert Wilkins, an experienced Australian explorer, to put together the Ellsworth Trans-Atlantic Expedition. In 1935 Ellsworth and pilot Herbert Hollick-Kenyon set off from the Weddell Sea, planning to be the first men to fly completely across Antarctica and land in the Ross Sea.
Full of interactions with larger-than-life figures in polar exploration, including Amundsen, Umberto Nobile and Robert E. Byrd, Antarctica's Lost Aviator is a rollicking history of an unusual man. Ellsworth's inability to organize the expedition that bore his own name, his strange quirks and his obsession with exploration make him a fascinating character. History readers and travel readers alike will enjoy Antarctica's Lost Aviator. --Jessica Howard, bookseller at Bookmans, Tucson, Ariz.