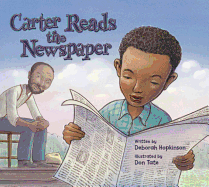 Deborah Hopkinson (A Letter to My Teacher) and Don Tate's (Strong as Sandow) exemplary picture book about "the father of Black History" celebrates a lesser-known historic American: Carter G. Woodson, who "transformed the way people thought about history" and set the groundwork for Black History Month.
Carter was born on a farm, 10 years after the Civil War ended, to parents who had been slaves. He went to school only part time because he was needed at home, but his father, who had escaped slavery to join the Union army, "believed in being an informed citizen." Unable to read or write himself, he encouraged Carter to read the newspaper aloud, which gave the boy "his first glimpse of the wider world." Carter went on to high school, college and eventually got his Ph.D. from Harvard, becoming "the first and only Black American whose parents had been slaves to receive a doctorate in history."
Throughout his life, Carter understood that learning occurs in all kinds of places, in all kinds of ways, and he labored to make sure that history included "all people." Carter learned the stories of his people, and he wanted to make sure that everyone in the United States learned them, too. In 1926, he chose "the second week of February" to be Negro History Week, "to mark the birthdays of Frederick Douglass and Abraham Lincoln."
This inspiring picture book combines a rich but focused text with clear, expressive mixed-media illustrations. It sheds light on an important, inspiring, but little-known subject, and the supplemental back matter gives weight to the exceedingly important takeaways that history must include all people, and that anyone can change history. --Lynn Becker, blogger and host of Book Talk, a monthly online discussion of children's books for SCBWI