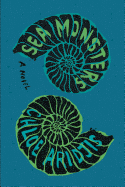 Sea Monsters by Chloe Aridjis (Books of Clouds, Asunder) is a dreamy, wandering tale of teenage ennui and searching, and the pull of the sea.
Luisa is 17 and bored with school in Mexico City, her parents and her classmates. Her interests include her best friend Julián and his stereo, as well as her French teacher's encouragements and the books he lends her. Suddenly she is enchanted by a newspaper headline: "Ukrainian Dwarfs on the Run." It is suggested that these escapees from the circus have headed to the beaches of Oaxaca; for Luisa, they become crossed in her mind with a sort of hidden treasure: something to seek.
There is a boy, too. Tomás Román: even the syllables of his name have power. Luisa has trouble understanding his pull on her, but as it resembles the pull of the Ukrainian dwarfs at the beach, she follows the impulse, and boards a bus with Tomás for the coast.
Because it is 1988, a soundtrack of Depeche Mode, Siouxsie and the Banshees, the Cure and Joy Division backs up Luisa's surreal travels. Her attention drifts between the immediate present and an interior world populated by French poetry, ancient shipwrecks and imagined worlds. As Luisa dreams away her days in a little village called Zipolite, her father searches for her. And he will have some of the best stories to tell by the end of this weird, captivating novel.
The plot of Sea Monsters is somewhat quiet, with Luisa spending much of her time inside her own head, but Aridjis's style makes this an absolute pleasure even when nothing is happening. --Julia Kastner, librarian and blogger at pagesofjulia