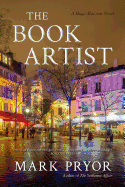 Hugo Marston enjoys his Parisian life. His job as head of U.S. embassy security is interesting and challenging, and his casual relationship with Claudia, a lovely journalist, is satisfying.
But then his boss, U.S. Ambassador J. Bradford Taylor, asks Hugo to attend the opening of an art exhibition in Montmartre. The artist is a talented young American, Alia Alsaffar, and Hugo's drawn in by her quick wit, stunning beauty and her art--which features sculptures made of books.
When a dead body turns up at the opening of the exhibition and suspicions focus on someone close to Hugo, he can't just stand by and watch a wrongful conviction. So he begins a parallel investigation. Meanwhile, Hugo's old friend Tom is tracking down a killer who's gotten out of prison and has good reason to hold a grudge against Hugo and Tom from back in their FBI days. Distracted by Tom and worried about the case, Hugo must use all of his talent to catch a killer before disaster strikes.
With its vivid Parisian setting, and an inviting slew of minor characters, The Book Artist is an enjoyable seventh entry in the Hugo Marston series by Mark Pryor. The Book Artist can easily be read as a standalone, allowing the reader to jump into Hugo's life and savor the twists and turns of the story. Gently paced but layered with intrigue, The Book Artist is sure to appeal to readers of mysteries and spy thrillers. --Jessica Howard, bookseller at Bookmans, Tucson, Ariz.