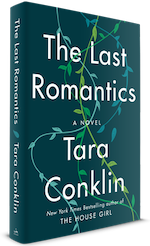 Tara Conklin's second novel, The Last Romantics, is a full-bodied drama that explores a family's expanding and contracting dynamics as the characters grow to adulthood following a devastating loss. We meet Renee, Caroline, Joe and Fiona, the Skinner siblings of Bexley, Conn., right after their father, Ellis, dies of a heart attack. Their mother, known to everyone, including her children, as Noni, is only 31. Forced to move from the cozy family home--yellow and cheerful, in a safe section of town with a swing set in the backyard--to a dark, shabby, gray house miles away from their old neighborhood, Noni succumbs to the dual pressures of her husband's death and an unsecure financial future, mentally shutting down, and unable to care for herself or her children.
The youngsters find themselves without any real parental input, a difficult and rowdy interval in their lives that they refer to as the Pause. The Pause is a formative, albeit vulnerable, time for the Skinner children. Their roles and responsibilities vis-à-vis each other take root during the months they spend effectively on their own. Renee is the caretaker and substitute mother, presiding over a chaotic and messy house; Caroline is the frightened, unsure one; Joe's the popular baseball star who bravely protects his sisters; and Fiona is an adventurous tomboy and bookworm.
Noni eventually emerges from her grief stronger and braver. She takes back the reins of motherhood from Renee, finds a job and embraces feminism. The lesson of their father's death, she tells her girls, is to never be financially dependent on a man. Renee absorbs this lesson, focused as she is on her medical career. Caroline rejects her mother's version of feminism, marrying and becoming a mother herself at the age of 19. Joe bypasses the lessons in feminism his mother never thought to teach him and goes on to lead a charmed but sadly unsuccessful life as an alcoholic New York banker. Fiona writes a controversial blog about female sexuality and struggles to establish herself as a poet.
The unusual narrative format of The Last Romantics is similar to that of Atonement, Ian McEwan's masterpiece, and is equally successful as deployed here. Fiona is our narrator and her story begins in the year 2079, when she is 102 years old, a famous and reclusive poet who consents to one last public appearance. Seated on stage in an auditorium packed with her fans, Fiona marvels at the enduring power of her iconic work, "The Love Poem," the one that catapulted her to fame and continues to inspire generations. When asked about Luna, the poem's muse, she embarks on a story that takes her back to her childhood and eventually to a revelation about the identity of Luna and how her life intersected with the Skinner family.
We learn that as the decades pass and each sibling takes a different life route, their childhood attachments to each other become strained; all four carry scars from the their father's premature death and the Pause. Joe struggles the most, his inner life drastically at odds with the outward trappings of his short-lived success. Conklin tenderly exposes the internal dissonance at Joe's unraveled core: he has the looks, charm and athletic ability to be popular, and life seems easy for him. But it's his fragile emotional life that trips him up. From childhood, he struggled with his responsibilities as the man of the house, never fully developing a sense of self. When Joe falls in love, things start looking up, but unfortunately not for long. His life is a fragile house of cards, one his sisters strive mightily to save from destruction despite Joe's refusal of aid. The siblings' propensity to keep secrets from each other--a habit they picked up during the Pause--doesn't help them.
With this latest offering, Conklin (The House Girl) has proven once again that she is an expert storyteller. The Last Romantics contains all the essential elements of a compelling Greek tragedy, one that also provides a mercifully cathartic release for its emotionally spent main characters and, ultimately, for the reader. The Skinners realize what is truly important to them only when it is lost forever. The lessons they learn, albeit too late, are the inspiration behind Fiona's "The Love Poem" and form the backbone of Conklin's artful exploration of the dynamism behind sibling relationships. The skillful three-dimensional rendering of Joe and his sisters welcomes the reader into the inner sanctum of their preoccupations and rivalries. Intensely moving, The Last Romantics is a thoughtful family drama with exceptional characters at its heart. --Shahina Piyarali