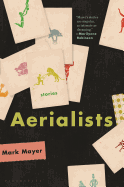 Cover iconography that depicts a circus and story titles like "The Clown," "The Ringmaster" and "Strongwoman" might lead readers to believe a series of big-top tales awaits them in Mark Mayer's excellent short story collection, Aerialists. That, much like a circus itself, is a bit of a ruse. Mayer's characters and settings are various and multifaceted, sometimes linking up to the proposed theme of the work, and sometimes downright undercutting it. It's best to ignore the theme altogether and jump into these nine poignant tales about what one owes others, and oneself.
"The Ringmaster," the final piece, is the most affecting, a somber story of a man nearing the end of his life with nothing to leave behind. Mick, a lifelong bachelor, has devoted himself to building an intricate model train set, hand-fashioning almost everything. He wakes up one day to realize it is finished, but with no one to give it to or to appreciate it, the model becomes a giant metaphor for his own impoverished life. That description might sound like Mayer closes on a sour note, but the author never loses his deep empathy for Mick, drawing the reader into his personal tragedy instead of reveling in it.
Mayer is interested in people whose connections to their friends and family are strained and tenuous, and his stories explore how easily those connections can be repaired or severed. Most of the pieces in Aerialists are tragedies in one way or another, but they always feel genuine, brought on by mistakes and failures of character. Mayer is well aware of how easily things can go wrong, and how precious it is when they go right. --Noah Cruickshank, director of communications, Forefront, Chicago, Ill.