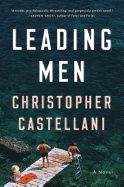 Christopher Castellani's Leading Men imagines the real-life relationship between mercurial American playwright Tennessee Williams and his longtime partner, Frank Merlo, an Italian American actor who died of lung cancer in 1963. It also presents an entirely fictional friendship between Frank, Tennessee and Anja Bloom, a glacially beautiful Swedish actress of Castellani's invention. With grace and wit--and taking respectful liberty with historical truths--Castellani (All This Talk of Love) weaves together multiple timelines, settings and Frank and Anja's oscillating perspectives to tell a moving story of love, loss, memory and regret.
It all begins at a wild party thrown by Truman Capote in Portofino, Italy, in the summer of 1953. Frank, then a young man struggling to define himself against Tennessee's towering persona, is drawn to Anja, an aloof teenage beauty of mysterious origin. Their fateful, fast friendship leads to a summer of wine-soaked dinners, lazy swims and wild drives up and down the coast--as well as dramatic events that alter the courses of their lives.
Literature lovers will enjoy Castellani's rendering of Tennessee Williams and his contemporaries. Frank Merlo proves to be quietly but equally compelling. Moreover, Anja is such a fascinating, singular character that readers may find themselves Googling her name to make sure she didn't exist after all.
From the Italian Riviera of the 1950s, in all its earthy glamour, to the luxurious sanctuary of an aging film star's modern-day Manhattan apartment, Christopher Castellani's Leading Men transports readers across time, place and its characters' aching, flawed hearts. --Hannah Calkins, writer and editor in Washington, D.C.