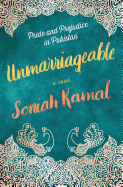 Unmarriageable by Soniah Kamal is a distinctly entertaining update of Pride and Prejudice. It features all of the memorable plot details of Jane Austen's masterpiece but is cleverly reworked to reflect the state of modern society in the Muslim country of Pakistan.
Kamal introduces the downwardly mobile sisters of the renowned Binat clan, their fortunes having fallen after their father's estrangement from the wealthy side of his family. They move from the high-society city of Lahore to the small backwater town of Dilipabad, much to the dismay of status-obsessed Mrs. Binat and her younger daughters. Jena and Alys, the sensible older sisters, work as teachers at the prestigious British School of Dilipabad to support their family. Alys, our protagonist, is a liberated woman on the cusp of turning 30. Proudly single, she cannot abide her mother's undignified efforts to ensnare rich, unsuspecting husbands for her daughters.
An over-the-top society wedding gives the sisters a perfect opportunity to meet eligible young men. Alys, with her boyish haircut and unfashionably tanned skin, ignores the admiring glances of potential suitors. She cannot imagine giving up her independence but is perfectly happy to help Jena find Mr. Right. It's only when she gets to know the enigmatic Mr. Darsee that Alys, through a series of comedic misunderstandings, begins to understand the true desires of her heart.
Marriage is the ultimate goal for many Pakistani girls, primarily because they have no other realistic choice. Kamal (An Isolated Incident) uses her comedy of manners, infused with tender humor, to comment on the sorry state of affairs for too many young women from this part of the Indian subcontinent. --Shahina Piyarali, writer and reviewer