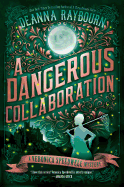 Veronica Speedwell, intrepid lepidopterist and amateur detective, is off-kilter as A Dangerous Collaboration begins. She has feelings for her friend and colleague, Stoker, with whom she is establishing a natural history museum. But the strictures upon married women in the Victorian era have made Veronica refuse to contemplate marriage, leaving her confused about Stoker.
When Stoker's elder brother, Lord Tiberius Templeton-Vane, persuades Veronica to pose as his fiancée for a trip in search of an elusive butterfly, Veronica cannot resist. But when they arrive at the tiny Cornish island where the butterfly resides, Veronica is annoyed to find Stoker there, too. Relations between the Templeton-Vane brothers and Veronica are already strained when they discover that the island holds many more secrets. Malcolm Romilly, owner of the isle and an old friend of Tiberius, has been in semi-seclusion since the disappearance of his bride, Rosamund, on the day of their wedding three years earlier. What can have happened to Rosamund Romilly? Veronica is determined to find out.
Clever and quickly paced, featuring Veronica's typically witty tongue, but with a bit more introspection than she usually engages in, A Dangerous Collaboration is a delightful fourth entry in the Veronica Speedwell series by Deanna Raybourn. Her banter with both Tiberius and Stoker is truly funny, and the reasons behind Rosamund's disappearance are sure to surprise even the most astute of readers. Perfect for fans of historical fiction and mystery alike, A Dangerous Collaboration is an engrossing blend of adventure and romance. --Jessica Howard, bookseller at Bookmans, Tucson, Ariz.