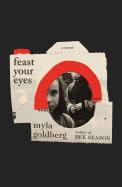 Myla Goldberg (Bee Season) goads readers at the outset of her fourth novel, "Feast your eyes, America," in the enthralling, jaded voice of Samantha Preston. Daughter of the acclaimed and controversial mid-century street photographer Lillian Preston, Samantha is the only one who can provide the necessary context for her mother's posthumous retrospective. But as the subject of Lillian's most scandalous series, she's conflicted about filling the role of curator.
Constructed as a gallery catalogue, yet notably without photos, Feast Your Eyes is a marvelous feat of the imagination. Still processing the residual trauma of her childhood notoriety, Samantha expounds on her mother's 118 photos in dialogue with Lillian's friends, lovers and diaries. "Photographs have an annoying habit of corroding whatever real memories you have of a moment until the photo is all that's left," Samantha writes about Samantha's tattoo, Brooklyn, 1959. Featuring the girl in nothing but her underpants, this picture is the first in a series deemed obscene by community guidelines.
Goldberg conjures unseen photographs with astounding skill, describing a body of work that captures Lillian's era as readily as it speaks to the author's own. Art can be a dangerous endeavor for creator and viewer alike; the greater the response, the more effective the piece. Feast Your Eyes inhabits this tension with immense grace and empathy, challenging the perennial urge to stifle what doesn't conform to a given community's standards.
The consistently ambitious Goldberg has once again delivered a remarkable piece of literature. Feast your eyes, indeed; there is much to digest. --Dave Wheeler, associate editor, Shelf Awareness