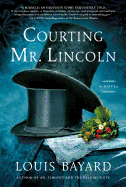 With wit and charm that only Louis Bayard (Roosevelt's Beast) can deliver, Courting Mr. Lincoln transports readers to 19th-century Springfield, Ill., to view both the romance of Abraham Lincoln and Mary Todd and the intimate friendship of the future president and a dry-goods merchant named Joshua Speed.
Elizabeth Todd Edwards is determined to find her sister Mary Todd a husband, so she summons Mary to Illinois from their childhood home in Lexington, Ky. Daughters of a wealthy banker, both women are educated and accustomed to refinement. In Elizabeth's eyes, the poor, unpolished country lawyer with political aspirations is far from a suitable match for Mary. And at first Mary takes little notice of Lincoln, but after repeated social encounters with him, she gets to know the mind and heart inside the gangly, mannerless man.
When Lincoln first arrives in Springfield, he is saddled with debt and asks the proprietor of a small store to recommend inexpensive lodging. He's offered a room above the store, but he must share it with the storeowner, Joshua Speed. Speed is the son of a wealthy farmer who is searching for his life's purpose. He finds it in his relationship with Lincoln. In addition to providing him a place to hang his hat, Speed educates Lincoln on the ways of gentlemen.
With Mary and Speed both vying for Lincoln's affection, it doesn't take long for conflict to arise. Those familiar with Bayard's work will appreciate his sterling dialogue and ingenious humor. When that all comes together, Courting Mr. Lincoln is Bayard at his absolute best as one of the nation's greatest literary gems. --Jen Forbus, freelancer