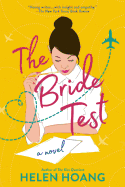 Khai Diep is certain he has a stone heart, one that can't feel love or sadness. During his cousin Andy's funeral, Khai remains dry-eyed. It doesn't bother him too much, though. Isn't it a good thing grief can't touch him? Who wants to wail like his aunties? Besides, he likes being alone with his routines, not dealing with messy emotions.
But his mother has other ideas. She knows Khai processes emotions and social cues differently because he has autism. She goes to Vietnam to choose him a bride and meets My, a feisty young single mother who cleans hotel bathrooms. Khai's mother gives My a startling offer: she'll pay for My to spend the summer with Khai in California and get him to marry her. Other than the possibility of a better life for her and her young daughter, My has another reason for accepting the offer: she wants to find her American father, whom she's never known.
My renames herself Esmeralda, and her plan to win over Khai leads to unexpected discoveries about herself and what she wants from life.
Helen Hoang's The Bride Test is even more affecting than her breakout hit, The Kiss Quotient. With heart and humor, she humanizes people who are routinely marginalized, and Esme especially is someone to root for--a woman born into poverty who knows her value even when the world looks down on her. By the time Hoang says in the author's note that Esme is based on the author's own mother, a war refugee who became a successful businesswoman, readers might find their eyes aren't dry at all. --Elyse Dinh-McCrillis, blogger at Pop Culture Nerd