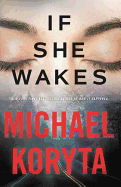 Tara Beckley, a senior at Maine's Hammel College, has one simple assignment: drive a visiting professor to a conference dinner. But Professor Oltamu insists on stopping along the way for them to step out and for him to take her picture. Before they can get back in the car, a van rams into them, killing Oltamu and flinging Tara into the cold river.
She wakes in a hospital room with her sister, Shannon, telling her mom and Mom's boyfriend that they should never give up on her. Who and what is Shannon talking about? Tara tries to communicate, with words, fingers, a blink--anything--but can't. She has locked-in syndrome--she can process stimuli but can't express herself to the outside world. If she can't demonstrate that her brain is alive, she might be taken off life support.
And someone else might end her life in a less merciful way. Oltamu's death was no accident, and Tara is a witness. If she starts communicating what she knows, an assassin would make sure she's silenced forever.
In If She Wakes, Michael Koryta (Rise the Dark) gives readers not one or two but four formidable female leads. Besides Tara, who fights for her life with every muscle twitch, there's Shannon, Tara's fierce defender; Abby, an insurance investigator trying to overcome her own trauma while looking into Oltamu's death; and Boone, also on the case but with a mysterious agenda. Koryta writes them with confidence, and each is someone to be reckoned with. As is the assassin, who's connected to characters in a previous Koryta thriller, which should delight fans. --Elyse Dinh-McCrillis, blogger at Pop Culture Nerd