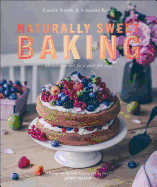 Carolin Strothe and Sebastian Keitel, the husband-and-wife team behind the beautiful Naturally Sweet Baking: Healthier Recipes for a Guilt-Free Treat, have created a luscious book full of mouth-watering baked goods. Strothe, a well-known German baker, and Keitel, a brand strategist, turn their talents and shared enthusiasm toward adapting recipes to reduce the amount of sugar in them. As they explain in the introduction, both of them grew up eating seasonally, aware of when fruits or vegetables are at their peak. They are alarmed by increasing amounts of hidden sugar in foods and produce that is often bred for extra sweetness.
Featuring fruits as the stars of the show, and encouraging readers to shop locally for in-season produce, recipes in Naturally Sweet Baking include Apple Crumble Muffins, Elderberry Gateau and a Cherry Tart. There are also adaptable recipes, such as the basic recipe for Oat Muffins that can be changed six ways--from banana and peanut butter to carrot and turmeric.
Each recipe has a gorgeous photo and easy-to-read directions. Most use natural sweeteners like maple syrup, honey or reduced amounts of brown sugar. As an added bonus, many of the recipes are gluten- or dairy-free, or are clearly marked with egg-free or lactose-free options. Bakers who are looking to make their sweet treats healthier, or people who are looking to cut down on their sugar intake, are sure to love Naturally Sweet Baking. --Jessica Howard, bookseller at Bookmans, Tucson, Ariz.