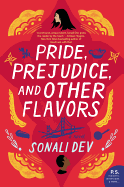 Sonali Dev (A Change of Heart; A Bollywood Affair) gives readers an entertaining twist on Jane Austen's classic tale, reimagined in a contemporary family drama. Brilliant neurosurgeon Trisha Rajes is a socially inept member of a wealthy, multi-generational Indian American family. After a teenage error in judgment leaves her semi-estranged from her family, workaholic Trisha focuses on her career. British chef DJ Caine is well on his way to fame and fortune when his beloved sister becomes ill. He leaves behind his successful career and life in Paris to care for her in San Francisco, where he meets her physician, Trisha Rajes.
The two mix as well as oil and water, and their conflict provides a thought-provoking window into issues of disparate cultures, racism and economic divides. Nevertheless, DJ must deal with Trisha, whom he finds difficult and prejudiced. Trisha struggles to cope with her attraction to the handsome chef she believes is too proud to accept their obvious differences in wealth and societal position. The push-pull of sexual attraction heightens the emotional impact on characters already overwhelmed with difficult family situations.
When DJ's sister makes a health decision that he finds unbearable, however, Trisha's unexpected intercession has DJ rethinking his earlier judgment of her character. And when Trisha is compelled to analyze her own prejudices, she must reconsider her own narrow view of the world.
This sumptuous novel is rich with complicated personal and family conflicts, mouthwatering food and the contrast of wealthy vs. modest in a sophisticated urban setting. Dev has a well-deserved reputation for excellence in multicultural women's fiction and fans are certain to love this latest. --Lois Dyer, reviewer