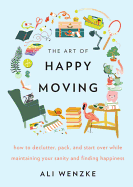 When Ali Wenzke moved to Knoxville, Tenn., she thought she was moving to her dream town. Six months later, her family still hadn't settled into their new life, and Ali found herself lonelier than she'd ever been before. No stranger to moving (10 moves in 11 years!), Wenzke took a good hard look at where she had gone wrong and started a popular website for others struggling with the same problems. Now, in The Art of Happy Moving: How to Declutter, Pack, and Start Over While Maintaining Your Sanity and Finding Happiness, Wenzke offers practical and emotionally soothing guidance for one of life's biggest challenges.
Organizing and simplifying to shave off "packing pounds," where to save money and opportunities for earning it, and other tips and tricks are applicable to first-time movers as well as those who have made it a lifelong habit. The chapters are organized in sensible stages, from first thinking about making a move to "The Happily Ever After Checklist." Wenzke mixes conversational advice, hilarious real-world examples and self-assessment quizzes. Special sections are devoted to families with children, and pet considerations are included as well. The appendix offers checklists, guides and other activity sheets (plus a recipe!) that practically guarantee a stress-free move, thoughtfully created from years of experience.
Evaluation techniques for where and when to move and why, as well as how to commemorate what's being given up while finding joy in discovering the new, provide a comprehensive roadmap for anyone looking forward to--or dreading!--their next big move. --BrocheAroe Fabian, owner, River Dog Book Co., Beaver Dam, Wis.