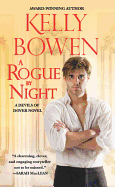 RITA award-winning author Kelly Bowen returns readers to the coast of England in A Rogue by Night, the third novel in her Devils of Dover Regency romance series. This fast-paced story features beautiful, war-weary surgeon and ex-smuggler Katherine Wright; she returns to her home on the Dover coast after Waterloo, determined to take her smuggler father and brother far away from the family trade. Before she can execute her plan, her surgical skills are needed to save her brother, wounded in a stormy night's illegal work. The sudden appearance of local baron Dr. Harland Hayward is disconcerting. But within moments, the quick-thinking doctor saves them all from discovery by soldiers.
Harland hides them at his home while Kate's brother recovers. The doctor has many secrets, not the least of which is that he uses his position as a wealthy, widowed aristocrat and his occupation as a surgeon to conceal his activities as the man behind the local smuggling ring. Like Kate, he wants his family safe and far from illegal acts, but he owes a debt to a powerful man that ensures he cannot walk away.
Kate and Harland have barely begun to get acquainted, the attraction between them powerful and instant, when his secretive boss demands Harland's help with a perilous mission. The dicey venture requires a second surgeon--Harland needs Kate's expertise. Forced into proximity, surrounded by danger, threatened by exposure, the two will have to abandon wariness and risk their hearts as well as their lives if they are to survive.
Readers who enjoy historical romance seasoned with swashbuckling derring-do, adventure and life-and-death action are certain to be delighted with this marvelous novel. --Lois Faye Dyer, author and reviewer