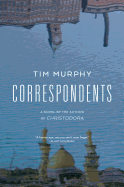 Rita Khoury has always wanted to be a journalist. Growing up in a sprawling Irish Lebanese family on Boston's North Shore, she longed to be in the thick of the action, reporting on world-changing events. Following September 11, 2001, Rita is sent to Baghdad to cover the U.S. invasion and occupation of Iraq, and its effects on ordinary citizens. She becomes close to her interpreter, Nabil al-Jumaili, a talented young Iraqi who is keeping secrets from his family and even from himself.
Tim Murphy (Christodora) tells the story of Nabil and Rita's relationship in his second novel, Correspondents. He begins his story with Rita's return to the North Shore for a family event in 2008. The narrative then unfurls the saga of Rita's ancestors: the Coughlins, hardscrabble Irish who worked their way up to the middle class, and the Khourys, forced to emigrate from Lebanon in search of jobs and opportunity. The stories of Rita's grandparents and parents follow: famine and grief, but also children and love, the tempering of ambition with practicality.
Interwoven are fast-paced chapters detailing Rita's and Nabil's experiences in the Middle East. As they grow closer to each other and to a handful of colleagues, including Nabil's brilliant, impatient older cousin Asmaa, tensions outside their heavily guarded compound continue to rise.
The geopolitical dramas of the early 2000s and the actions in the Middle East by American leaders make the book even more relevant to present-day realities. But the novel's true strength is its cast of vivid, flawed, deeply human characters, who struggle and make mistakes, and do their best to work for good in uncertain, even dangerous, times. --Katie Noah Gibson, blogger at Cakes, Tea and Dreams