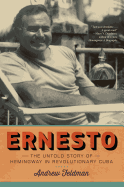 Nobel Laureate Ernest Hemingway has been the subject of numerous biographies, ones that cover his entire life, his interests in bull fighting, war, fishing, his multiple marriages, but none has truly detailed his lengthy relationship with Cuba. Andrew Feldman, in Ernesto: The Untold Story of Hemingway in Revolutionary Cuba, uses documentary evidence, eyewitness accounts and archival materials only recently made available to non-Cuban scholars. The result is a worthwhile additional portrait of a complex and accomplished human being.
While the emphasis is on Hemingway's extended time in Cuba, including his interactions with Castro and other political figures, this biography also covers his life before Cuba, his multiple marriages and his major works--and their critical reception. The particular emphases on fishing, his boat, Pilar, and his relationships with Cuban fishers provide insight into Hemingway's most esteemed work, The Old Man and the Sea.
Feldman frequently employs a novelistic style, as when describing Hemingway commencing A Moveable Feast: "In the eye of a revolutionary storm striking Cuba once again, Ernest, standing in his bedroom beside the bookshelf, and sitting barefoot at the table beneath the thatched arbor beside the swimming pool, had begun to put Paris to paper." This style does not detract from biographical rigor, as Feldman deeply sources his work and provides extensive end notes.
Additionally, this book is a fine companion to Our Man in Havana, about British author and Hemingway contemporary Graham Greene's own time in Cuba. --Evan M. Anderson, collection development librarian, Kirkendall Public Library, Ankeny, Iowa