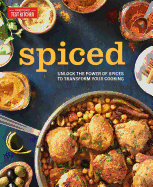 Even with numerous test cooks, cookware specialists and editors producing magazines, TV shows and cookbooks, America's Test Kitchen has become an internationally recognized and respected name in the food world. Now ATK turns the spotlight on spices--how to grind them, how to blend them and how to keep them from languishing in a spice rack. Spiced: Unlock the Power of Spices to Transform Your Cooking challenges the home cook to throw open their spice cabinet and start getting creative with flavors. It offers technique guidelines, well over 100 recipes, 47 homemade spice blends and the America's Test Kitchen signature rationale behind why something works the way it does.
After an overview of kitchen utensil basics, cooking terminology and an encyclopedic dive into the history and usage of each spice, Spiced gets into the heart of the matter: when and how to make use of them. The organization is thoughtful, with page number listings for spice blends, as well as an at-a-glance catalogue of recipes and the primary spices used in them. The recipes come from all over the world, e.g., Wisconsin Brats and Beer (Dijon mustard and caraway seeds), Lamb Vindaloo (vindaloo curry powder), Spanish Shellfish Stew (paprika, saffron, red pepper flake), Shakshuka (cumin, turmeric) and Sichuan Braised Tofu (Sichuan peppercorn and chili powder).
Full-color photographs provide mouthwatering inspiration, while an introduction at the beginning of each recipe delivers on the America's Test Kitchen promise of creating the best recipe for that dish. --BrocheAroe Fabian, owner, River Dog Book Co., Beaver Dam, Wis.