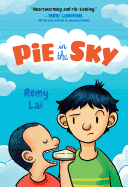 In Remy Lai's debut, two brothers, 11-year-old Jingwen and nine-year-old Yanghao, immigrate with their mother to Australia from China following the death of their father. Jingwen is apprehensive about the move: struggling with his father's unexpected passing, he doesn't want to leave behind his grandparents and all that is familiar. Complicating matters further, Jingwen has to repeat a year in school because English still "sounds like an alien language" to him; he is embarrassed and ashamed that his little brother's English is better than his.
With their mother working at night, Jingwen copes with loss, his failures at school and his lack of new friends by imagining a variety of cakes based on recipes from their father. Papa had a friend "who told him the meaning of the idiom pie in the sky--an impossible dream"--which their father planned to use as a name for their future cake shop in Australia. Looking for a distraction from school and encouraged by Yanghao, Jingwen bakes his first cake, but Mama puts an end to the baking when she discovers that the boys have used the oven in her absence. Undiscouraged, Yanghao goads his older brother into secretly making the cakes while Mama is at work. As the brothers bond over the recipes and memories of Papa, they begin to find a way to make their new space feel like home.
Lai's story is lovely, tackling the difficult topics of death, bullying and loss in a way that is empathetic and accessible to young readers. The relationship between the two brothers is the true heart of the novel, and Lai's illustrations add an extra layer of sweetness to the prose. Perfect for fans of Gene Luen Yang and Victoria Jamieson, Pie in the Sky is a delight. --Clarissa Hadge, bookstore manager, Trident Booksellers & Cafe, Boston, Mass.