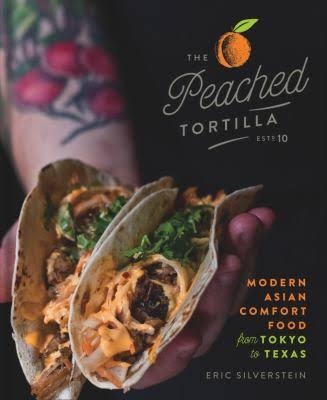 Part autobiography, part food odyssey and part cookbook, The Peached Tortilla: Modern Asian Comfort Food from Tokyo to Texas explores Eric Silverstein's journey through Asia as a child, skips over his years as a lawyer and dives deeply into the passion for food that led him to create a multi-pronged food and hospitality business.
Born to Chinese and Jewish American parents, raised in Japan and Atlanta and settled in Austin, Tex., Silverstein crafts recipes that are heavily influenced by the many contrasting flavors of his favorite childhood foods. Including home-cooked meals, street food, noodle bowls and cocktails, The Peached Tortilla offers an idiosyncratic blend of soul food, incorporating Asian seasonings, Tex-Mex staples and Southern-fried comforts.
A section table of contents, cooking notes on unfamiliar utensils and techniques and suggested Asian pantry staples lead into 100 recipes with accompanying full-color photographs and author's note vignettes. Some, like Laksa (from Malaysia), require four or more different stages in making the one dish, and may be outside of the average home cook's abilities, pantry items and kitchen gadgetry. Others, like the pickles and sauces (wasabi mayo, sesame pickles and tomato jam), may become new family staples for the adventurous palate. A glossary of Asian foods and noodles, including pictures of brands for easy recognition in the grocery story, rounds out this introduction to one man's vision of Asian-Southern cooking with a Southwestern twist. --BrocheAroe Fabian, owner, River Dog Book Co., Beaver Dam, Wis.