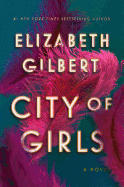 The glittering theater world of 1940s New York is the backdrop for Elizabeth Gilbert's marvelous fourth novel, City of Girls. Gilbert's delightfully witty narrator is Vivian Morris, a woman with a big, bold life story and the determination to be true to herself in pursuit of her personal happiness.
Vivian recounts the adventures of her gloriously misspent youth, beginning when she moves in with her Aunt Peg in Manhattan. Aunt Peg's universe revolves around her down-and-out theater company, the Lily Playhouse, and it is this world of lowbrow entertainment that Vivian gleefully embraces as an antidote to her conservative upbringing. The Lily's star showgirl, Celia, introduces her to wild parties, rampant sex and drunken escapades.
After a night of especially wanton debauchery, Vivian is caught up in a media scandal that forces her to take stock of her life. She realizes there are only two things she is exceedingly good at: sewing and sex. Vivian enjoys sex far too much to commodify it, so she pursues a career as a seamstress, along the way building a life rich in loving friendships, acts of kindness and sexual freedom.
Gilbert (The Signature of All Things; Big Magic) reminds readers that there is no shame in the pursuit of sexual excitement. In fact, a life lived with passion and a good dose of reckless abandon makes people more interesting and probably also happier. Female literary characters are usually slain by their own desires, but not Vivian. This unapologetically sensual woman not only survives but positively thrives in her unconventional life. --Shahina Piyarali, writer and reviewer