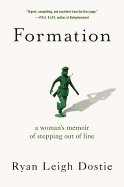 It's difficult to find a single quote to quantify the anger that sticks in one's craw while reading Ryan Leigh Dostie's Formation: A Woman's Memoir of Stepping Out of Line. The sheer number, along with Dostie's evocative recounting, renders it impossible. Examples include tried-and-trues such as: "It's your word against his" and "Are you sure you want to ruin this guy's life?"
"Unsubstantiated" was the term used by Dostie's captain to announce to her entire army company the result of an "investigation" into her rape by a fellow soldier. Hesitant to report, Dostie turned to her command, the "father figures" and "abstract constructs of justice and integrity" who were supposed to protect her, only to have them stonily and resoundingly tell her, "No."
Neither Dostie nor her memoir is defined by her rape, but it viscerally informs them. A Persian-Farsi linguist in military intelligence, Dostie ships off with her unit to Iraq not long after 9/11 (and her rape). As she navigated the testosterone-laden hierarchy as a female soldier and isolated trauma survivor, her sense of self was further eroded. She over-ate to create a shield for her body and began cutting to find relief.
Threading back through Dostie's upbringing in a Christian cult to her life after the army, Formation delves brilliantly into the Venn diagram of trauma, patriarchy, the military and what it means to be a woman at the center. Growing up, Dostie thought she might want to write crime fiction. Instead, life handed her a personal true crime one wishes had been the product of her imagination. --Lauren O'Brien of Malcolm Avenue Review