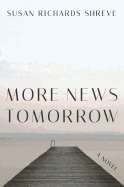 Nearly seven decades after it takes place, the reverberation of a brutal crime in the life of one of its victims is the subject of Susan Richards Shreve's pensive 16th novel, More News Tomorrow. Shreve (Miracle Play) combines elements of a classic mystery novel with a contemporary psychological thriller to create a story whose surface simplicity conceals depths of emotion.
On June 17, 1941, as the sun rises at a remote campsite in the northern Wisconsin woods, the body of Josephine Grove, dead by strangulation, is discovered. Her husband, William, a Lithuanian Jewish immigrant with a Ph.D. in physics, quickly confesses to the murder. In the chaotic aftermath, their four-year-old daughter, Georgianna, is rushed away to Michigan, to be raised by her maternal grandparents.
Decades later, on her 70th birthday, Georgianna receives the first in a series of letters from Roosevelt McCrary, who, as an 11-year-old, was among those at the scene of Josephine's death. Georgianna is spurred by this correspondence to gather her children and grandchildren for a return to the murder site on the 67th anniversary of the killing, where she hopes to find evidence that finally will exonerate her long-dead father.
Shreve writes from the perspectives of Georgianna and her 13-year-old grandson, Thomas, with flashbacks seen through William's eyes. While maintaining maximum suspense until the final pages, she patiently reveals facts that make Josephine's killing, if hardly excusable, at least somehow comprehensible. This is a story whose journey is as rewarding as its destination. --Harvey Freedenberg, freelance reviewer